Chili Crisp Brings Sizzling Flavors to Basic Dishes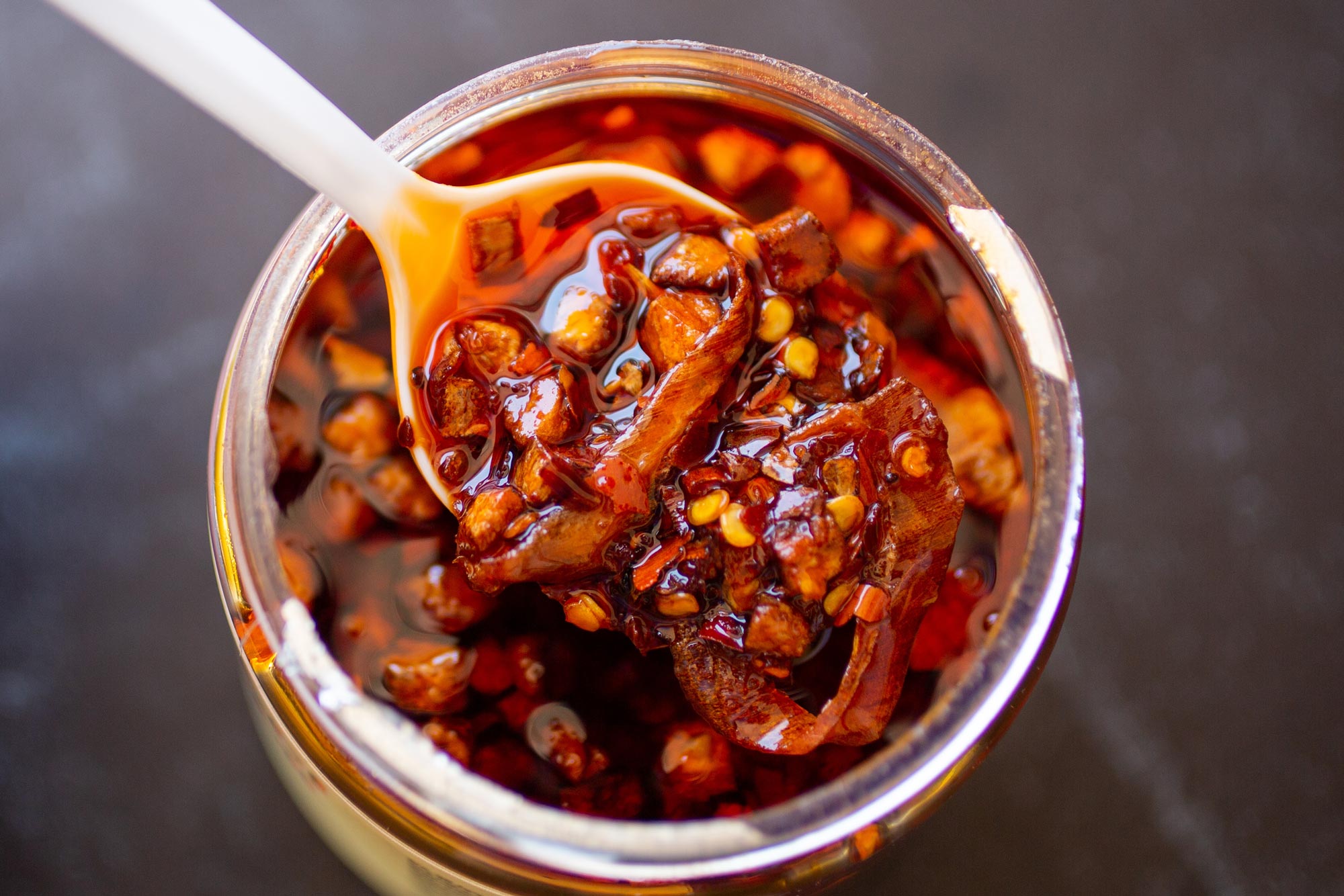 Oils infused with herbs and spices add a special finishing touch to any dish, and no flavored oil is getting more play right now than chili oil. Chili oil and its crunchy cousin chili crisp got their start in Chinese kitchens, but now these piquant condiments are adding spice and crunch to all kinds of dishes, from noodles to salads and even desserts.
The numbers demonstrate that chili oil is on its way to becoming the hottest condiment in the restaurant industry. Chili oil is found on 3.7% of menus, a 37% increase over the past four years, according to a report from Datassential. Forty-six percent of the population is aware of chili oil and 26% have tried it, Datassential reported. This presents an exciting opportunity for foodservice operators to add something cutting-edge, yet familiar to their menus.
Restauranteurs have been incorporating chili crisp into their menus in a variety of ways with most sticking with Asian flavor profiles. Lat14 restaurant in Golden Valley, Minnesota, offers a braised duck ramen noodle dish garnished with sprouts, Thai herb salad and chili oil, bringing together many pan-Asian flavors. State of Grace in Houston, Texas, which features contemporary American cuisine, tops their fried chicken sandwich with a chili crisp glaze and kimchi slaw.
The iconic brand Lao Gan Ma, a fragrant mixture of soybeans, peanuts, dried chili peppers, spices and oil, has gained a devout following among flavor seekers everywhere. However, chili crisp is fairly simple to make at home and lasts for a month or more in the fridge. "Traditional Chinese chili oil is often homemade as most families have a unique, hand-me-down recipe," reported Daphne K. Lee to CBS News. "Unlike store-bought brands, every jar of fresh chili oil carries some form of family heritage and regional flavors."
Recipes for homemade chili crisp range from simple, like this New York Times version, to complex, like this iteration from Serious Eats. No matter the recipe, the first thing to consider is the type of oil that will provide the basis for the condiment. It's important to choose an oil with a neutral flavor profile, like cottonseed oil, so the oil can amplify the flavors of the fragrant spices rather than competing with them. This condiment uses a lot of oil, so selecting a neutral oil like cottonseed oil sets the foundation for a delicious dish.
The ingredients in chili crisp are fairly flexible and vary from recipe to recipe. In most recipes, aromatics like onions or shallots and garlic are the elements that provide the crispiness. These aromatic vegetables should be sliced thinly and fried in cottonseed oil until evenly golden brown and crispy. The next step is to strain the shallot-garlic-oil mixture, reserving the oil in a separate bowl.
Many recipes call for crushed red chili flakes to bring the heat. Consider upping the ante by crushing your chili flakes at home. The Serious Eats recipe calls for a combination of dried árbol, Japones and Kashmiri red chilis for a mix of heat and complex fruity flavors.
Other spices deliver nuanced flavors that amplify the heat of the chilis and pungency of the shallots and garlic. Most recipes include freshly grated or sliced ginger, whole star anise pods, salt and sugar. Beyond that, there's a lot of opportunity to experiment with spices. This version from Bon Appétit features cinnamon sticks and soy sauce, while the New York Times mixes in sesame seeds and Sichuan peppercorns. The Serious Eats version adds in a whole list of interesting additions, including porcini or shiitake mushroom powder, MSG, cardamom pods, cumin and black pepper.
Peanuts are another ingredient delivering the crunch factor. While peanuts are traditional in the Lao Gan Ma version, they're optional depending on your personal preferences. If using peanuts, mix them in with your spice selections and set aside.
No matter what spices you choose, the process is the same: Add your sizzling garlicky, shallot-y oil to your spices in a separate bowl and let them do their thing. Once the oil-spice mixture is cooled, stir in the fried shallots and garlic chips.
While chili crisp can be eaten immediately, it is best served the next day and can keep in the fridge up to a month.
With a swipe of this salty-spicy-fragrant-crunchy condiment, you can add bold flavors to simple dishes in a relatively easy and flexible way. For more ideas on how to use cottonseed oil, check out https://www.cottonseedoil.org/news-and-insights/.