Chef Karrie Hills Uses Cottonseed Oil to Add Texture to her Plant-Based Dishes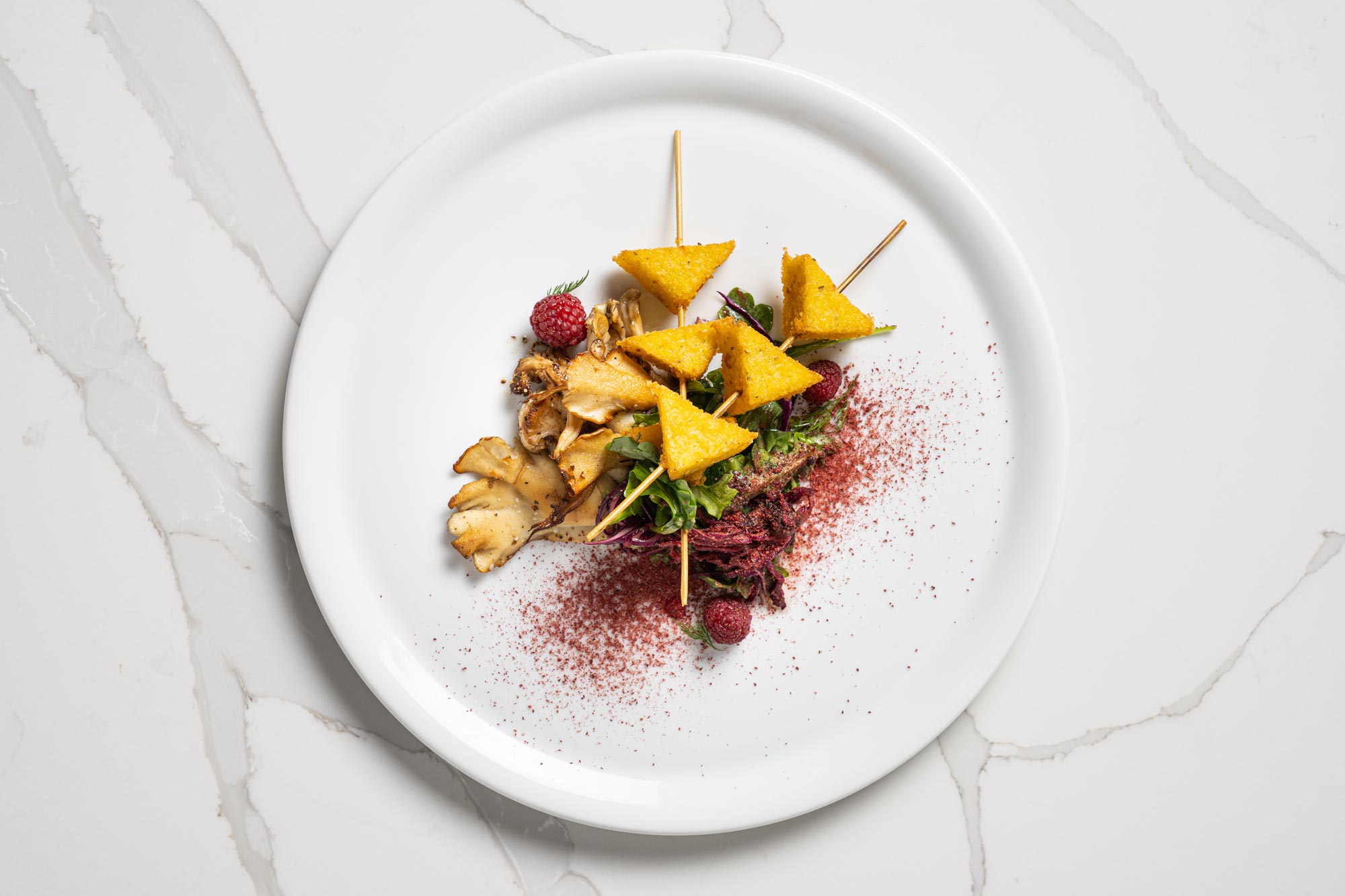 Chef Karrie Hills has a passion for creating light, modern, plant-forward versions of classic dishes. Hills heads up not one but two kitchens in San Diego's Mission Hills. When it comes to versatility in her kitchen, she reaches for cottonseed oil.
"Cottonseed oil is really perfect because it has a high smoke point (450°F) for frying and sautéing, and it's good for baking and vinaigrettes because it has a very neutral flavor," Hills said.
Cotton Incorporated collaborated with Hills to create a menu featuring cottonseed oil, including recipes for tempura leek rings, Jamaica flower tostadas, plant-based kale Caesar salad, fried polenta and pumpkin waffles.
---
Tempura Leek Rings with Cottonseed Oil Aioli
To make this tasty appetizer, Hills dips leek rings into a tempura batter made with egg replacer and fries them in cottonseed oil. Cottonseed oil's high smoke point is ideal for frying because of the texture it imparts to fried foods.
"This tempura batter is very light, flaky and crisp, and this oil allows it not to become heavy," Hills said.
She serves this with an aioli made with cottonseed oil and avocado, and flavored with lemon juice and Dijon mustard. Cottonseed oil lends this sauce a silky texture while its neutral flavor profile allows the subtle flavors of the avocado, lemon juice and Dijon to shine through.
"It's really light and aromatic, and you can taste all the delicate flavors," Hills said.
---
Mini Jamaica Flower Tostadas
Hills uses Jamaica flowers for a meat substitute in these plant-based tostadas. First, she rinses the Jamaica flowers until the water runs clear to remove any bitterness. Then, she sautés them in cottonseed oil with onions, garlic, ancho chili and seasoning. The dish is served with a sunflower crema and topped with cilantro, radish and Aleppo pepper.
"Jamaica flowers are unusual as a meat substitute, but they are the perfect texture that you can build on with whatever flavor profiles you like," Hill said.
---
Plant-Based Kale Caesar Salad
To make this plant-based kale Caesar salad, Hills sears a slice of bread using cottonseed oil to get a perfect crust. Then, she tops it with nut-based Parmesan and finishes it in the broiler.
The star of the show is her plant-based Caesar dressing, which uses cottonseed oil to create a smooth, silky texture. Hills blends cottonseed oil with cashews, Dijon mustard, nori and nutritional yeast to replicate the classic flavors of anchovies and Parmesan in a traditional Caesar dressing.
"This is one of my favorite dressings," Hills said. "I love making a play on a classic."
The salad comes together with a garnish of mustard flowers, marinated red onions and nut-based Parmesan cheese.
---
Fried Polenta with Maitake and Lion's Mane Mushrooms
To make this entrée, Hills marinates maitake and lion's mane mushrooms in garlic, oregano and cottonseed oil. Then she sautés them in cottonseed oil until crisp.
Hills makes a rosemary polenta cake that she refrigerates overnight, cuts into triangles, skewers and fries in cottonseed oil.
"The high smoke point of the cottonseed oil gives you a really crispy, clean polenta bite," Hills said.
Finally, she infuses cottonseed oil with raspberries to make a raspberry oil. Cottonseed oil is a great choice for infusions because of its neutral flavor. This aromatic oil is then combined with raspberries, mustard, apple cider vinegar and rosemary to create a raspberry-rosemary vinaigrette. Hills tosses arugula and shredded purple cabbage in this vinaigrette and uses it to garnish the polenta cakes and mushrooms. She finishes off the dish with raspberries and raspberry powder for an elegant, flavorful main dish.
---
Pumpkin Waffles with Maple Custard and Kumquat-Berry Compote
Finishing the menu is pumpkin waffles made with cottonseed oil.
"This is one of my favorite plays on a waffle," Hills said. "This dish might sound heavy when you think of waffles, but it's not that at all. It's light, airy and crisp. Cottonseed oil allows for that texture to take place."
She pairs these light pumpkin waffles with a whipped cashew maple custard. Then the dish is garnished with a kumquat-berry compote and finished off with molasses crystals and powdered sugar.
---
Hills recently partnered with Chef's Roll and Cotton Incorporated to share these recipes in a recipe series titled "Trust Chef" and you can view those videos below. Click here to learn more about the many ways to use cottonseed oil in restaurant kitchens.